Skin care treatments for face, neck, cleavage, chemical peelings
Manual cleansing treatment with cream mask - face
Manual cleansing treatment with algae mask - facial
Manual cleansing treatment with cream mask - back
Maria Galland lifting face massage
A lifting facial massage instead of botox!
Designed specifically for the Maria Galland Lift Expert, this massage combines deep gliding, anti-aging and intense movements including kneading and rolling to instantly lift, firm and plump the skin and stimulate cellular activity. At the same time, the relaxing properties of the ritual help to reduce stress, restore energy.
Moisturizing cocoon
The famous cocoon effect is a feeling of being wrapped in gentle warmth, which relaxes the muscles, facilitates the absorption of active ingredients and helps to completely calm down. A mosaic of specialized Essences and cream masks, as well as the company's modelling massage and enveloping foam mask, is the key to creating a unique treatment that fully meets the needs of every skin type. The result? Beautiful, rested skin with soft features, perfectly groomed and radiant every day.
Cocoon treatment comes in many variations, it can be moisturizing, banquet and regenerating, among others.
Moisturizing Cocoon is a real bath of freshness for the skin. A cold mask under the eyes and on the face gives a feeling of freshness, softness and comfort.
Banquet cocoon
The famous cocoon effect is a feeling of being wrapped in delicate warmth, which relaxes the muscles, facilitates the absorption of active ingredients and helps to completely calm down. A mosaic of specialized Essences and cream masks, as well as the company's modelling massage and enveloping foam mask, is the key to creating a unique treatment that fully meets the needs of every skin type. The result? Beautiful, rested skin with soft features, perfectly groomed and radiant every day. Cocoon treatment comes in many variations, it can be, among others, moisturizing, banquet and regenerating.
Cocoon banquet treatment is a powerful lifting, regeneration and shallowing of wrinkles. Tightening complexes improve the quality of collagen and elastic fibers, making the face look younger. Grey, tired skin is brought back to life, gains vitality and radiance.
Regenerating cocoon
The famous cocoon effect is a feeling of being wrapped in delicate warmth, which relaxes the muscles, facilitates the absorption of active ingredients and helps to completely calm down. A mosaic of specialized Essences and cream masks, as well as the company's modelling massage and enveloping foam mask, is the key to creating a unique treatment that fully meets the needs of every skin type. The result? Beautiful, rested skin with soft features, perfectly groomed and radiant every day. Cocoon treatment comes in many variations, it can be, among others, moisturizing, banquet and regenerating.
Regenerating Cocoon makes the skin regain its softness, beautiful color and glow. An ampoule with vitamins A and E and plant oils nourishes and smoothes the epidermis.
Modelling treatment with a gypsum mask
The leader of lifting treatments on the basis of a plaster mask.
A cosmetic classic whose effectiveness has been proven millions of times all over the world. Under the cover of a self-heating mask, centimeter by centimeter, pioneering active ingredients are applied to the skin, each time selected individually to the current skin needs. After the Ritual Makeup Removal is applied a mosaic of Essences and specialized creams for individual zones of face, neck and cleavage and then the mask, which through its weight and temperature not only supports the absorption of active ingredients but also perfectly drains, models the oval of the face and lifts. Modelling treatment in addition to the immediate effect also gives the beginning of long-term processes of regeneration of the skin, which thanks to it becomes more beautiful every day.
Hydra Global
Lift Expert
Maria Galland has created a new, 75-minute treatment, based on a 100% manual lifting massage with proven effectiveness. The ritual induces a state of deep relaxation to relax the mind and body.
The treatment instantly firms and redefines facial contours, fills and smooths wrinkles, giving the skin a beautiful appearance and revealing visibly younger skin.
Specially developed 100% manual lifting massage technique, combines deep massage techniques, anti-aging movements with intensive kneading and rolling movements to instantly lift and firm the skin and stimulate cell activity.
Active Age
Nutri Vital
Beautiful look - rejuvenating treatment for the eye area
The treatment provides the skin with long-lasting hydration, strengthens the connective tissue and the protective functions of the epidermis. Visibly soothes and tightens the skin, fights irritation, protects against free radicals, stimulates and supports the functioning of cells.
Ferulac peel booster
TThis is the latest generation of peeling with rejuvenating and brightening effect. Allows you to achieve improvement in skin condition in just a few days. This treatment uses ferulic acid, florentine and retinol 1%.
Ferulic acid has antioxidant properties and protects the skin against free radicals, inhibits and neutralizes their effects, as well as enhances the effects of vitamins C and E. It protects the skin against UVB and UVA radiation and thus minimizes sun damage and protects cellular DNA. It controls the activity of tyrosinase, thus preventing the formation of discolorations and lightening the existing ones. Moreover, it has a pro-apoptotic effect on cancer cells.
Phloretin increases the penetration of active ingredients. It inhibits the activity of elastase, an enzyme responsible for the destruction of elastic fibres. It also has antioxidant properties.
Retinol is a retinoid from which retinoic acid is formed. It accelerates mitosis, increases enzymatic activity and normalizes keratinization.It nourishes the skin, prevents the appearance of wrinkles, reduces the depth of existing wrinkles and improves skin elasticity. Retinol also soothes spots caused by overexposure to UV radiation.
Main indications:
hyperpigmentation
photoageing
anti-aging
uneven skin texture and tone
acne scars and discoloration.
renewal of the horny layer
Ferulac classic + vitamin C
The treatment combines the beneficial effects of ferulic acid and highly concentrated vitamin C.
Ferulic acid is characterised by antioxidant properties protecting the skin against free radicals, inhibiting and neutralising their effects. At the same time it protects skin cells against UV radiation, prevents the formation of discolorations and lightens the existing ones. In combination with vitamin C it gives the effect of smooth, radiant and brightened skin and supports the reconstruction of the natural epidermal barriers ensuring the improvement of skin hydration and its general condition. High safety of active ingredients and lack of reaction with UV radiation makes the treatment can be performed all year round, even in people prone to discoloration.
DNA Recovery Peel
The year-round DNA Recovery Peel is based on ferulic acid, which blocks the photo-aging process - hence it is often called "photo-repair peeling". Ferulic acid acts as an antioxidant and enhances UV protection.
Whether we like it or not, the sun is the main culprit in skin aging. UV radiation damages collagen fibers, causing the skin to lose its firmness and elasticity. It also irreversibly damages DNA structures, resulting in keratinization and dryness of the epidermis, vasodilation and discoloration, as well as the characteristic deep wrinkles on the décolleté. The common denominator of all photoaging symptoms is that they are hard to treat. Plus, they don't show up right away. You won't see them after one vacation, but only after years of sun exposure. Only proper home care and professional beauty salon treatments can effectively fight these unwanted summer souvenirs. With the help comes, among others, chemical peeling.
Chemical peeling with ferulic acid has anti-inflammatory, antioxidant and strengthening properties. Like mandelic acid treatments, it works on the surface without causing deep exfoliation. With stronger acids, renewing skin is prone to increased melanin production, which often results in hyperpigmentation. Peeling with ferulic acid is completely safe in this respect. Moreover, it repairs previous UV damage and prevents the formation of new ones by acting as a sunscreen.
Ferulic acid protects the skin from ultraviolet radiation, from heat and high temperatures, which destroy collagen fibers. In spring and summer it will therefore protect skin cells from the inside, acting in a way like a filter, but not a chemical or physical one that absorbs or reflects radiation, but one that protects the cell from the inside, preventing aging.
In addition, DNA Recovery Peel has been enriched with a number of active ingredients (including retinol and growth factors), which have anti-aging and regenerating properties as well as antioxidant and repairing properties (repairing enzymes, zinc and amino acids). Thanks to this peeling effectively reduces wrinkles, improves skin tone, unifies skin tone and lightens discolorations, thus dealing with all the symptoms of photoaging.
Improvement in skin condition will be best seen after a series of 4 treatments performed every 14 days.
Salicylic acid
The most effective anti-acne peeling!
Salipeel Lic is the latest generation of anti-acne peeling using Lipoceutical nanotechnology and liposome technology. Application of these two advanced technologies allows to achieve excellent results, while skin reaction and flaking are minimal.
The active ingredients contained in liposomes are salicylic acid (15%), citric acid (10%) and linolenic acid.
The use of liposomes in Salipeel Lic allows:
better transport of active substances deep into the skin,
gradual and long-lasting release of active ingredients,
protection and stability of the substances they contain,
thanks to the ability of gradual release of active substances and effective their effective absorption, only a small amount of the preparation is needed, which significantly reduces the risk of harmful side effects.
Salicylic acid - the main ingredient of Salipeel Lic - is beta-hydroxy acid (BHA).
The overall effect of BHA acid is very similar to that of AHA fruit acids, i.e. it regulates skin cell regeneration, exfoliates by loosening intercellular connections and removes unnecessary layers of keratinized epidermal cells. Salicylic acid is also a compound related to aspirin (aspirin's chemical name is acetylsalicylic acid) and, like aspirin, it has certain anti-inflammatory properties, so it promotes the healing process of blemishes and irritations.
It is a fat-soluble acid, thanks to which it also has the ability to penetrate the sebaceous layer and penetrate deep into the hair follicles, as well as clean the skin pores, which is important in the treatment of acne, preventing the formation of pimples and eliminating the so-called "blackheads". For this reason salicylic acid is recommended for acne-prone skin, but also for dry skin with impurities in the T-zone, as it has no drying properties.
Citric acid contained in Salipeel Lic increases the absorption of active substances and strengthens the effect of salicylic acid, while linolenic acid reduces the risk of irritation, regenerates the skin and restores its defensive functions.
Indications for peeling:
inflammatory and scarring acne.
keratinized, dry skin (also on the elbows, knees and feet)
Folliculitis
rosacea.
enlarged pores
seborrhoea
skin discoloration.
Wrinkles and skin flabbiness.
psoriasis
Contraindications:
skin allergies
herpes.
therapy with vitamin A derivatives
One week before peeling one should not use retinoids or preparations irritating the skin.
men should not shave an hour before the peeling.
Procedure after the treatment:
After the treatment in the office, the cosmetologist does not wash off the product. It should be washed off with water at home after 6-8 hours. During this time the preparation still affects the skin and it is recommended not to put makeup during this time. If the treatment was performed in the evening, the face should be washed off only in the morning.
Mandelac + vitamin C+
A treatment for mixed skin of uneven color, with a tendency to excessive sebum secretion, based on a combination of 20% mandelic acid and 30% citric acid. Mandelic acid, due to its large molecule size, is suitable even for sensitive skin which does not tolerate AHAs. It can be safely used in the summer.
The treatment refreshes the appearance of the skin, reduces shine, smooths wrinkles, lightens discoloration and adds luminosity.
The use of products containing vitamin C and antioxidants in nanotechnology reduces free radicals, additionally influences the synthesis of collagen and elastin and reduces the activity of tyrosinase, preventing the formation of discolouration.
A year-round, non-peeling treatment, intended for every skin type, also for the eye area. Recommended especially for gray skin, oily skin, with signs of aging.
Frequency: 6-8 treatments every 10-14 days
Melases TRX booster peel - anti-pigmentation treatment for vascular skin
Purpose: Skin with hyperpigmentation with a significant vascular component. Melasma.
Frequency: 4-6 treatments every 21-28 days. The number of treatments depends on the improvement of the patient's skin.
Maintaining the effect: perform a series 2 times a year.
Tranexamic acid used for treatment:
- prevents pigmentation caused by UV radiation (blocks plasmin synthesis),
- anti-inflammatory - controls itching, swelling and erythema,
- accelerates renewal of the epidermal barrier function - often used in atopic dermatitis.
Timeless prodigy - global ultra anti-aging treatment based on growth factors, stem cells and white truffle extract
Luxury and science have been combined to create this miraculous global ultra anti-aging line. This line is formulated with 25 highly concentrated active ingredients, selected by scientists specifically to combat the signs of skin aging.
3 rejuvenation strategies:
activation of cell division.
improving cell quality,
Enhancing cell productivity.
Stem cells from Damask Rose are responsible for increasing cell numbers. On the other hand, the substance that prolongs the life of cells and delays their transition to aging is Teprenon white truffle extract.
The unprecedented anti-ageing effects have been confirmed in 2 clinical trials on 50 volunteers.
Power Oxygen
Power Oxygen acts against pollution and skin hypoxia.
Pollution
Prolonged and repeated exposure to high levels of pollution can exceed the skin's defenses, damaging tissue and triggering its ability to cleanse itself and regenerate.
Lack of oxygen
When the skin lacks oxygen hypoxia, also known as oxidative stress, takes place. At the cellular level, the supply of oxygen is crucial for cells to produce the energy needed to guarantee skin homeostasis and vitality.
Signs of hypoxic skin exposed to pollution:
dehydration
Premature wrinkles.
appearance of discolouration
uneven skin tone.
lack of radiance.
Skin that is rough and flabby.
acne and pimples.
irritation and redness.
How does Power Oxygen fight pollution?
With the help of two protective factors against pollution:
PM 2.5 pollution filter.
Protects and instantly cleanses the epidermis from pollution, creating a coating capable of capturing PM 2.5 particles and removing them.
Environmental protection.
Provides a global barrier against environmental effects, creating a film on the skin that does not block it. but reduces intracellular and extracellular damage.
What does Power Oxygen do with oxygen?
Provides oxygen.
Thanks to perflurodecalin, oxygen concentrates in the skin.
Transports oxygen.
Thanks to nasturtium major extract, it provides the oxygen transport that the skin needs to provide vitality and allow for an even and glowing complexion.
The main benefits of the treatment:
protection against pollution: captures PM 2.5 particles.
Intense oxygenation: supplies the skin with oxygen.
Detoxifying action.
Anti-oxidant action.
Prebiotic action.
Results for the skin:
skin protected from pollution
skin oxygenated
skin cleansed and radiant
skin with a healthy appearance.
skin moisturised and balanced
skin devoid of toxins.
Global lift - lifting program, improves facial oval shape
It is a global lifting programme, an anti-age strategy aiming at restoring correct shape of facial oval and structure of adipose tissue without using a scalpel. Global lift is a program which is the latest tool in the fight against sagging, photoageing and loss of tension. This treatment gives a spectacular effect of face remodelling, firming, and wrinkle reduction.
Eternal - firming program with stem cells
Stem cells naturally occurring in our skin, thanks to their wealth of nutrients are an important weapon in the prevention of skin aging. They show unusual durability and resistance to negative external factors. With age, however, their functions in the human body disappear, resulting in a rapid loss of elasticity, deterioration of skin tone, and the appearance of visible wrinkles on its surface. Life-giving energy provided by properly secured and delivered to the skin plant stem cells, through intensive renewal and stimulation of fibroblasts to produce new healthy cells, provides an immediate improvement in the appearance of the skin and a long lasting anti-ageing effect.
The Eternal line is based on stem cells extracted from the Swiss apple variety Uttwiler Spätlauber, which has an exceptional shelf life.
Eternal is a professional anti-aging program.
Corrective - anti-wrinkle program
With age, the skin loses its firmness and elasticity, senile and mimic wrinkles appear. This is due not only to the fact that the amount of collagen and elastin produced decreases, but also the efficiency of mimic muscles decreases. Corrective treatment is an alternative to invasive aesthetic medicine procedures, which include smoothing facial wrinkles with botulinum toxin.
This treatment, an alternative to the effects of aesthetic medicine, is a wealth of stimulating peptides, fillers and deep moisturizers. It provides an immediate improvement of facial oval, markedly increases elasticity and smoothness of the skin.
Aquatherm - soothing program for sensitive skin
Sensitive skin is a result of disorders in the skin's protective system. Moreover, its condition is influenced by hypersensitivity, external irritants, pollution, stress etc. causing often undesirable effects such as redness, burning sensation, flaking or eczema.
The aging process is accelerated in sensitive skin and its premature signs are definitely more visible.
Therefore, proper care of sensitive skin requires daily treatments at home as well as at a beauty salon.
AQUATHERM is a range of products based on thermal water from the Salies-de-Béarn spring in the French Pyrenees. Its daily use makes it possible to normalize sensitive skin by restoring the balance of the epidermis metabolism and the defensive functions of the skin which protect it against the harmful effects of the environment.
Specially selected for their high tolerance, the active ingredients allow to improve skin comfort and help reduce redness and feelings of irritation.
Active ingredients:
Thermal water from Salies-de-Bearn.
A thermal mineral water which offers a very high content of mineral salts and more than 25 main oligoelements in the form of sodium, potassium, calcium, magnesium, manganese, zinc, copper ions etc. Their specific amount (especially magnesium ions) allows for a rapid normalization of the skin barrier function, thus reducing the hyperactivity of sensitive skin.
Salies-de-Bearn water is also an excellent remineralizing agent that successfully influences cell metabolism and skin regeneration.
These are natural substances that stimulate the development of the skin's bacterial flora, which are responsible for maintaining the skin's natural pH balance while protecting us from the attack of harmful microorganisms.
TThese are the most important lipids forming the intercellular cement of the stratum corneum. Their deficiency or lack - especially of type I ceramides - is associated with problems in sensitive skin. Since in plant extracts, ceramides are present in trace amounts, it is recommended that products intended for this skin type be reinforced with the active substance in question. The action of ceramides in the epidermis consists in giving proper position to separate protective layers of lipids which protect us against penetration of substances from the external environment into the epidermis and against excessive loss of water and metabolites.
Power Retinol - an intensive regeneration programme against photo-ageing
Cosmetics from Power Retinol line contain a new generation of retinol in its pure form, which allows to obtain the best possible results in the fight against skin aging.
Retinol is an active ingredient with powerful rejuvenating and regenerating properties. Called liquid gold, it is particularly valued in anti-aging treatments. Power Retinol line is a result of groundbreaking research by Skeyndor brand on retinoids and substances with retinoid or retinoid-like properties, used in professional cosmetics and aesthetic medicine. Its application allows for visible rejuvenation of skin, aging due to natural causes or as a result of photoaging. Skin regeneration is supported by: organic calendula oil, a mask with amber extract with antioxidant and nourishing properties and a cream with high concentration of antioxidant active ingredients extracts.
High effectiveness is provided by a complex with retinoid action, i.e. the interaction of three components with strong rejuvenating power: RETINOL, BAKUCHIOL AND HS SOJA EXTRACT.
Power Hyaluronic - deeply moisturizing program with hyaluronic acid
Power Hyaluronic therapy regulates the natural hydrodynamics of the skin, restoring its optimal hydration, which guarantees the process of renewal and smoothing of its surface.
Hyaluronic acid is a natural component of the body whose main function is to capture and retain water in the skin.
Active ingredients:
There are different hyaluronic acid molecules, the size and weight of which depend on the biological activity of the skin, as well as the ability to penetrate and distribute in the tissue.
Power Hyaluronic Therapy has been developed, based on very low and high molecular weight ingredients, to deeply hydrate the skin and at the same time protect it from premature water loss caused by aggressive external factors.
High molecular weight hyaluronic acid fragments (>500 Kda) have a primarily protective activity against environmental factors and do not penetrate deeper than the outermost, top layer of the epidermis. Fragments with a very low molecular weight (<20KDa) are the only ones able to reach the dermis and stimulate the synthesis of new hyaluronic acid, securing the main reserve of water in the skin, the so-called dermis reserve.
Aquaporin activating factor.
Aquaporins are tissue proteins that allow intracellular transport, mainly of water and other substances. Their quantity and quality ensure that water is distributed evenly through the intermediate and deep epidermis respectively, meeting the skin's basic water requirements. Power Hyaluronic has been formulated with xylitol and its derivatives, as well as molecules of natural origin that create a perfect harmony in the skin. The ability of these substances to increase by 36% the level of aquaporins, especially type 3 (AQP-3) which form the majority, has been confirmed by in-vitro tests.
This is water whose molecules have been charged by an electromagnetic field so that they do not disperse and their movement is controlled and directed. Polarized water, apart from moisturizing, is also a great carrier of other active substances.
Power Hyaluronic eye & eyelash treatment
Recommended age: From 25 years old.
Skin type: The skin around the eyes with visible signs of aging or fatigue. Weak, thin, short eyelashes.
Effect: lifting of eyelids, softening of wrinkles around the eyes, strengthening of eyelashes, reduction of shadows under the eyes.
Active Ingredients:
Hyaluronic acid (HA) - a natural component of the body whose main function is to capture and retain water in the skin. This molecule is considered a natural "sponge" because it is able to hold 1000 times more water than its own weight.
Silky albite, Centella Asiatica, Siegesbeckia orientalis extract - are responsible for lifting droopy eyelids and alleviating bags and bruises under the eyes.
Blue Lotus, Aloe Vera, Chlorella vulgaris - to soothe and restore the delicate eye area.
Biotin GHK, Panthenol - strengthen and thicken eyelashes.
Power C + - brightening, antioxidant program
Brightening therapy, based on a patented, permanent form of vitamin C called
NIKKOL VC-IP. It is a modern care for the skin tired with excessive activity of sun rays and urban pollution. The extraordinary effect of vitamin C has been enhanced by antioxidant properties of pomegranate extract and ellagic acid from the bark of Genus tree and phytic acid from nuts. Thanks to this combination, vitamin C reaches the living cells of the epidermis in an unchanged form.
This highly effective cocktail, counteracts skin dryness, lightens discoloration, increases elasticity, adds radiance to the skin and increases its vitality.
The perfect line for:
protection against the harmful effects of the sun,
as a repair after sun damage,
for the first wrinkles,
general tiredness of our skin.
Intensive moisturizing treatment for Men
SKEYNDOR MEN line products are based on a composition of ingredients with a scientifically proven smoothing, moisturizing and strengthening effect.
The strengthening properties of organic silicon support tissue regeneration and protect against micro-trauma caused by shaving;
Rejuvenating Vitamin C, visibly brightens and improves skin tissue tone delaying the aging process;
Thermal Spring Water, soothes, remineralizes and rebalances the skin.
Intensive Moisturizing Treatment - is a relaxing treatment to restore the external balance of impure skin. It has an anti-wrinkle effect, normalizes, firms and deeply moisturizes.
Intensive anti-wrinkle treatment for Men
SKEYNDOR MEN line products are based on a composition of ingredients with scientifically proven smoothing, moisturizing and strengthening properties.
The strengthening properties of organic silicon support tissue regeneration and protect against micro-trauma caused by shaving;
Rejuvenating Vitamin C, visibly brightens and improves skin tissue tone delaying the aging process;
Thermal water, soothes, remineralizes and restores balance to the skin.
Intensive anti-wrinkle treatment is a strongly strengthening and revitalizing skin treatment. It immunizes against external factors (smoke, cold, UV rays). It deeply moisturizes and slows down the natural process of appearing wrinkles on the skin.
Natural defence - moisturizing treatment, anti age
Natural defence - moisturizing treatment, anti age (COMPONED TREATMENTS)
Skin aging is a result of a number of cellular processes, resulting from an imbalance in chemical functions and life balance, which keep cells fully functional. This phenomenon occurs when enzymes cease to function as metabolic catalysts that enable essential energy exchange processes. When these changes occur prematurely and the damage done is irreparable, skin aging becomes irreversible. That is why it is so necessary to protect the skin comprehensively by supplying it with substances that activate the defence mechanisms that will replace the lost functions.
Natural Defence is a line designed for the treatment of skin exposed to premature signs of ageing.
Among the main ingredients selected for the Natural Defence line in particular are:
amino acids,
oligopeptides,
sea plankton,
vitamins responsible for strengthening the skin's natural defence mechanisms.
These ingredients moisturize, firm and prevent the formation of wrinkles.
Treatment for vascular skin based on thermal water
Thermal water-based treatment for vascular skin (COMBINED TREATMENTS)
Essential - treatment for combination and oily skin
Essential - treatment for combination and oily skin (COMBINED TREATMENTS)
Essential is a treatment designed to treat combination and oily skin. Among the main ingredients selected for the Essential line in particular are:
kaolin clay,
witch hazel extract.
These ingredients regulate the sebaceous glands, absorb impurities, have an anti-inflammatory effect, leaving the skin smooth and matte.
In addition, a complex of amino acids, collagen and elastin of marine origin, acts strongly moisturizing, toning, strengthening and protecting the skin.
NANOPORE Microneedling - skin firming, wrinkles getting shallower
Doctor Gabriel Serrano, the creator of Nanopore Microneedling, calls the device a super technology. Why? Because it is a minimally invasive method and works comparably to laser treatments. - It will be one of the most important treatments and can compete with lasers. - Dr. Serrano explains.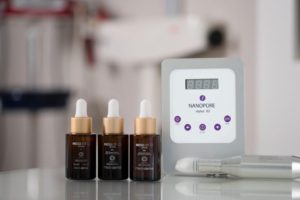 Nanopore is almost painless. This is due to the completely different design of the needles and the way they move, and the skin regenerates faster. The microneedles in Nanopore are straight, not rounded as in the so-called "penes". The needles in Nanopore make as many as 1,000 movements per second, so they induce electricity less than a millimeter deep in the skin. These stimulate growth factors for natural regeneration. So if you combine a peel with Nanopore (first the peel, then the needles), their effect doubles or triples. In contrast, there are no (or very rare) side effects, irritation and bleeding known from previous generation needles. As a result, you look good when you leave the office: no erythema or puncture marks. Thus, it can be a breakthrough treatment that will convince people who have been undecided about rejuvenating treatments so far.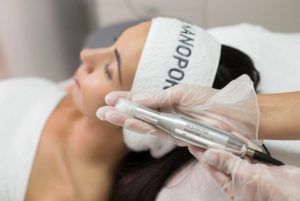 Treatments with the Nanopore device are selected individually to the needs of the client's skin, using an appropriate mixture of mesococktails. We use Mesocit preparations, which contain in their composition various mixtures such as: growth factors closed in liposomes, combined with active compounds intensively penetrating the deepest layers of the skin, hyaluronic acid, retinol, vitamin C, biomimetic peptides, nucleic acids, amino acids.
Treatments using Nanopore have:
rejuvenating
Eliminating wrinkles, discolourations.
nourishing
diminishing scars, stretch marks.
nourishing the skin.
firming.
eliminating cellulite.
to strengthen connective tissue
improving the oval of the face.
Contraindications to treatment:
inflammatory changes of the skin
acne vulgaris in active condition
acne rosacea in active state
autoimmune diseases.
cancerous diseases
Herpes
psoriasis
vitiligo
Hydrogen cleansing AQUASURE H2 - skin cleansing with active hydrogen
Hydrogen cleansing consists in supplying the skin with hydrogen molecules, which cleanse the skin at the cellular level. Because hydrogen is the smallest and lightest element, it has the ability to penetrate deep into the skin's structures. Active Hydrogen is delivered to the skin through a stream of water saturated with it, which additionally exfoliates dead skin cells, leaving the skin deeply cleansed. In addition, active hydrogen shows anti-aging properties by eliminating free oxygen radicals. Thanks to its small mass, it penetrates deep into the skin, where it combines with reactive and most harmful free oxygen radicals, and then in the form of water is removed from the body, thus stopping the skin aging process. It turns out that hydrogen is the strongest antioxidant, it is much more effective than vitamin c or even coenzyme Q10. Hydrogen cleansing is therefore a method of skin cleansing that works not only in multiple stages but also comprehensively.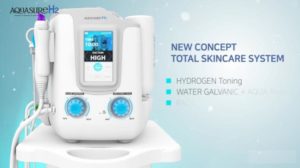 AQUASURE H2 multi-step skin cleansing is all about deep cleansing your skin so that it looks healthy and radiant. Multistep indicates not only that the cleansing consists of several steps, but also that it works multitaskingly. It is based on thorough cleansing, exfoliation, moisturizing and anti-aging.
STEP 1: HYDROGEN CLEANSING
Active hydrogen effectively cleanses the skin at the cellular level. At the same time it neutralizes and reduces free oxygen radicals, which are responsible for skin aging, thus stopping the aging process.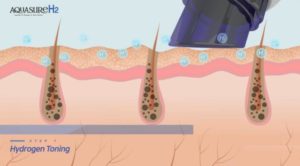 2 STAGE: HYDROPEELING
Hydropeeling or water microdermabrasion treatment is performed under high water pressure, which allows to achieve a smooth, uniform and fresh skin. This stage of treatment removes dead cells and impurities from the skin surface.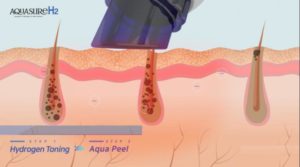 STAGE 3: ION INFUSION
During the treatment, in the form of a premium serum, exfoliating and nourishing substances are introduced into the skin cells. The effect of exfoliation is intensified thanks to lactic acid, while the nourishing and regenerating effect is due to active vitamin C.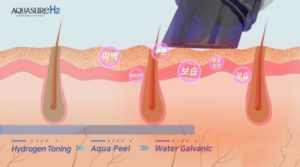 STAGE 4: MCS LIFTING
The end of the treatment is a stage of massage with the use of MCS head using microcurrent stimulation. It allows to increase the elasticity and tightness of the skin, as well as to activate the process of blood flow, starting the remodelling of collagen and elastin fibers.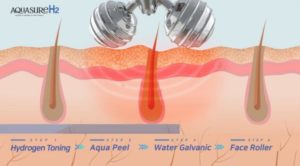 EFFECTS
Thanks to the multi-stage hydro-cleansing during one treatment, we get an immediate effect of cleansing, smoothing, deep hydration and lifting. Aquasure H2 system allows you to work on many skin problems. After the treatment, the skin regains its lost radiance, is deeply cleansed and moisturized. By reducing the amount of harmful free radicals, the skin aging process is significantly delayed.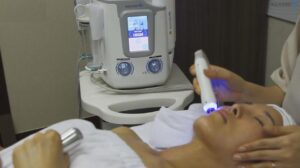 CONTRAINDICATIONS
- Violation of the continuity of the skin,
- sunburn,
- herpes in the acute stage,
- acute inflammatory processes,
- use of anticoagulants,
- severe somatic illness,
- pregnancy,
- hypersensitivity to currents.
FREQUENCY
A series of 4-6 treatments performed every 10-14 days.
The treatment can also be performed once.
Photodynamic Therapy PAN - Spectrum Mask
LED Therapy
The use of LED light stimulates regeneration processes and improves blood supply to the skin. The treatment is completely safe and carries minimal risk of side effects. The appropriate wavelength penetrates into the skin without violating it. The depth of penetration depends on the color of light used.
What advantages does each color of light have?
Not every color of light has the same effect. Depending on your skin's needs, you should choose the right color.
• Blue light has a soothing effect on the skin. It mainly benefits people with acne and rosacea. The effect of the blue light wave damages the sebaceous gland and causes a decrease in sebum secretion, thus reducing the obstruction of hair follicles and improving skin texture.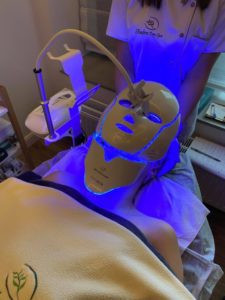 • Red light increases collagen production by controlling keratinization and improving circulation, which helps with skin affected by photoaging. This wavelength restores elasticity and remodels the top layer of the skin. It brings very good results in delaying the aging process, reducing wrinkles and discoloration.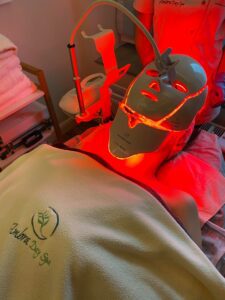 Spectrum Mask phototherapy device
Mediderma brand has launched a phototherapy device - Spectrum Mask. The mask provides a spectacular and long-lasting effect without invasive procedures and without pain. The light beam penetrates the skin and reaches the interior of the cells, stimulating the processes occurring in them. It does not affect the cell structure, but only stimulates and naturally intensifies the regeneration mechanisms. Spectrum Mask has been recognized by the most renowned beauty magazine - LNE - with the "LNE Innovations" award.
In addition to the phototherapy device, the key to successful treatments is the skillful combination of light with photosensitizers, which are selected by a specialist and activate after contact with light. Photosensitizers include substances such as curcumin or chlorophyllin.
Application of Spectrum Mask
- acne
- rosacea
- aging
- atopy
- psoriasis
- alopecia
Contraindications
- pregnancy
- breastfeeding
- tumors
Therapies using Spectrum Mask in combination with photosensitive substances
Main photosensitive substance: aminolevulinic acid hydrochloride.
Indications for treatment: skin with signs of aging, sun damage, acne tendency, dehydrated skin.
Action:
- regenerative: increases collagen synthesis, improves skin texture
- antibacterial
- anti-inflammatory
- brightening of discoloration
LED light: alternating red and blue.
Frequency of treatments: every 2-3 weeks.
Anti-inflammatory, soothing treatment.
Main photosensitive substance: curcumin.
Indications for treatment: skin with a tendency to acne, psoriasis, atopic dermatitis.
Treatment benefits:
- improvement of moderate and severe acne lesions
- reducing the formation of acne scars
- improvement of skin elasticity
- unification of skin tone
- reduction of hyperkeratosis
LED light: blue.
Frequency of treatments: every 2 weeks
Main photosensitive substance: chlorophyllin.
Indications for treatment: skin with a tendency to acne, with redness and signs of photoaging.
Action:
- anti-acne,
- anti-bacterial,
- antioxidant,
- oxygenating the skin,
- brightening of acne discoloration,
- reducing sebum production,
- closing of dilated pores.
LED light: alternating red and blue.
Frequency of treatments: every 2 weeks.
GeneO+ - exfoliation, absorption and oxygenation
Geneo is a unique platform by Pollogen, which allows to obtain a rejuvenated, firmed and natural looking skin. Geneo treatments provide immediate and long-lasting results. Geneo gives you the opportunity to use two technologies: Oxygeneo®, Tripollar® RF.
OXYGENEO®
It is a comprehensive care, revitalization and natural oxygenation of the skin from the inside - 3 in 1. During the treatment we use capsules enriched with nutrients and base gels, allowing you to match the treatment to the specific type of skin and its needs.
During the first phase of the treatment, the outer layer of the skin is exfoliated, creating an ideal environment for the absorption of essential nutrients. At the same time, a combination of capsule and gel occurs on the surface of the skin, resulting in the production of countless CO2-rich microbubbles. The microbubbles burst gently on the surface of the skin and cause a physiological reaction of the body, called the "Bohr effect", which consists of:
- sending O2-rich blood to the treatment area of the skin,
- increasing blood flow in the capillaries,
- Increase skin cell metabolism.
Oxygeneo provides 3 simultaneous effects:
DRYING
The microbeads released from the capsule exfoliate the stratum corneum and remove all impurities. The skin is smoothed and prepared for further care.
ABSORPTION
Properly oxygenated and exfoliated skin is ready to absorb active substances contained in the applied preparation, such as hyaluronic acid, azelaic and kojic acids and retinol.
OXYGENATION
As a result of the reaction, micro-bubbles containing carbon dioxide are formed on the skin surface. The affinity of hemoglobin for oxygen is reduced, which is released into the tissues and immediate oxygenation of the skin occurs.
Depending on the desired results and skin needs, Geneo offers:
NEO BRIGHT ECO
BRIGHTENING
A treatment with a tropical papaya fragrance which nourishes and brightens the skin, instantly giving it a radiant appearance.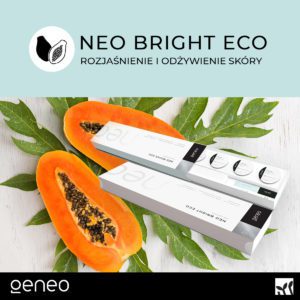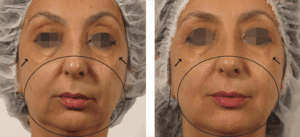 NEO REVIVE ECO
REJUVENATION
A treatment with a soothing fragrance of green tea which prevents skin ageing, moisturises and nourishes.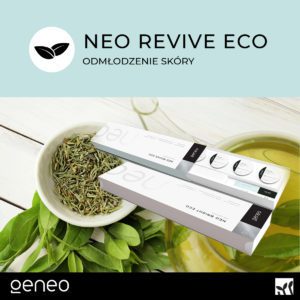 BALANCE
CLEANSING AND BALANCING OILY SKIN
Aimed at cleansing and balancing oily skin and improving its structure and appearance.
.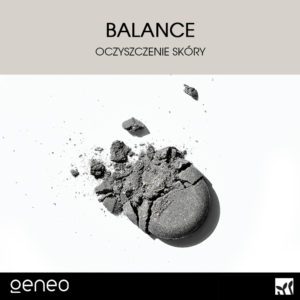 ILLUMINATE
TO IMPROVE SKIN TONE AND LUMINOSITY
A unique combination of active ingredients to improve skin tone and exceptional luminosity.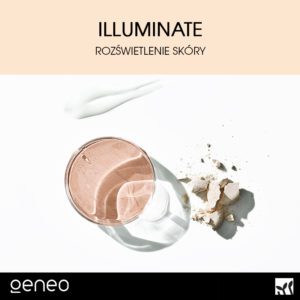 REVIVE
REVITALIZATION OF DULL SKIN AND REJUVENATION
Ideal for revitalizing dull skin and reducing fine lines and wrinkles.
HYDRATE
HYDRATE
A unique combination of active ingredients to increase hydration and add radiance to dry and dull skin.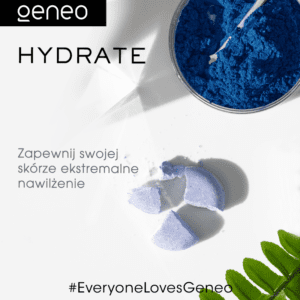 DETOX
STRENGTHENING THE SKIN'S PROTECTIVE BARRIER
It protects the skin against the harmful effects of the environment and toxins. It tightens and brightens, ensuring the effect of balance, rejuvenation and refreshment.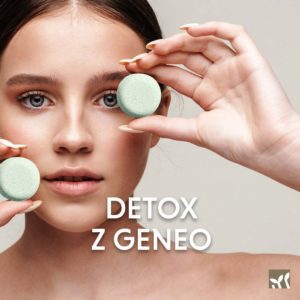 GLAM
RESTORATION OF HARMONY AND YOUTHFUL VITALITY OF THE SKIN
Geneo Glam takes the skin to a higher level of care. Pure gold encapsulated in Geneo Glam capsules together with a complex of peptides and silk amino acids, give cells energy, prevent collagen loss and restore elasticity. The result is smooth, nurtured and youthful skin.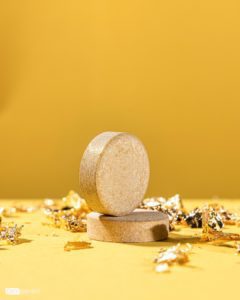 Geneo also allows you to offer firming and lifting treatments. For this purpose, an additional head with radio wave technology is used.
TRIPOLLAR® RF
Using the RF head during the treatment allows to stimulate skin renewal by stimulating the production of its collagen and elastin fibres. Concentrated RF energy in a safe and effective way causes controlled heating of the dermis, leading to its shrinking and firming.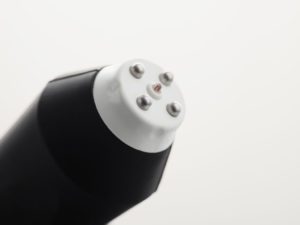 Geneo Krakow
GENEO BODY - beautiful body and healthy skin!
Specially designed for every skin type by the company Pollogen, an innvoation expert in aestetics and cosmetology, who has prepared special body treatment protocols using OxyGeneo technology and OxyPods capsules:
CLARITY
Restores balance and purifies the skin
An extremely effective combination of toxin-removing, anti-inflammatory, soothing and sebum-absorbing ingredients to cleanse oily skin prone to acne and improve the condition of skin in areas such as the shoulders, buttocks, arms and back. The treatment is performed on a selected part of the body or on all the above-mentioned parts.
ELEGANCE
Smoothes the skin and restores its radiance
This unique treatment contains a powerful set of antioxidants and moisturizing and rejuvenating ingredients. This unique blend promotes lymphatic drainage, increases blood flow to the skin's surface by stimulating microcirculation, and improves the appearance of the legs.
Treatment area: the whole legs.
TOUCH UP
Skin brightening and rejuvenation
The treatment contains ingredients that both protect and soothe delicate skin, as well as work together to unify skin tone, improve pigmentation and rejuvenate delicate skin and areas such as the hands or bikini line.
The treatment is performed on a selected part of the body or on all above mentioned parts.
Tripollar (RF) - lifting, skin thickening
RADIO WAVE IN AESTHETIC MEDICINE
Radio wave has been used in aesthetic medicine for over 75 years as a safe and effective technology. In the last decade, radiofrequency wave has been recognized as the gold standard technology used in the aesthetic medicine market.
RF heats deep tissues while safely working on the epidermis. The degree of clinical effect, depends on the relative electrical resistance of the target tissue.
In aesthetic medicine, RF technology is used to:
skin tightening,
reduce wrinkles,
reduction of local obesity
reduction of cellulite.
GENEO / oxygenation, exfoliation, absorption: choice of capsule: NeoRevive or NeoBright with rejuvenating or brightening effect)
TRIPOLLAR (RF) / firming, thickening, lifting effect, wrinkle reduction)
TREATMENTS BASED ON SKIN TIGHTENING
GENEO + TriPollar + NeoMassage
6 treatments
First OxyGeneo, then Tripollar.
OxyGeneo causes exfoliation of the horny layer, which is associated with better penetration of RF
TREATMENTS BASED ON IMPROVING SKIN TEXTURE AND NUTRITION
TriPollar + GENEO+ + NeoMassage
6 treatments
FirstTripollar, then OxyGeneo.
The RF treatment causes an increase in blood flow and better penetration of active gel ingredients.
Cavitation peeling - delicate skin cleansing
Modern cosmetology offers more and more comfortable and spectacular treatments. The use of modern digital equipment is a painless alternative to traditional methods such as manual skin cleansing. It also increases the possibility of transporting active ingredients deep into the skin. Super Sonic Skin Scrubber by Rubica uses multidirectional action of ultrasound technology. This non-surgical system of intensive skin regeneration gives the possibility to carry out anti-wrinkle, anti-cellulite treatments as well as support the treatment of serious skin problems.
How does the cavitation peeling work?
The ultrasound wave in the presence of fluid creates bubbles filled with diluted gas, which enlarge and burst violently. Under the influence of heat and increased pressure a very thorough and completely painless cleansing of the skin from the accumulated layer of keratinized epidermis, toxins and secretions of sebaceous glands takes place.
Advantages of using cavitation peeling:
Painlessly, quickly and thoroughly cleanses the skin of the face, neck and cleavage.
Disinfects the treated area, preventing the appearance of inflammation.
Does not require heating, so it can be safely performed on vascular and sensitive skin
Supports acne treatment.
Lightens discolouration and pigmentation spots
Prepares the skin for further cosmetic procedures, increasing its absorption capabilities.
Indications and contraindications for ultrasound treatments
Indications:
Discoloration.
Wrinkles
Acne.
Cellulite.
Grey skin tone (skin poisoned by nicotine).
bruising and puffiness around the eyes.
Poor skin nourishment and regeneration.
Contraindications:
Tumors and conditions after their surgical removal.
Pregnancy.
Circulatory insufficiency.
Feverish states.
Severe general condition.
Presence of metallic foreign bodies in tissues (pacemakers, braces, etc.).
Vegetative neurosis of a significant degree.
Osteoporosis.
Cosmetic functions of ultrasound:
Removal of subcutaneous pigmentation spots.
Elimination of blood clots and "red nose" erythema.
Eliminating wrinkles.
Eliminating bags under the eyes.
Acne treatment.
Eliminating horny layer and "fish scale".
Removing fatty tissue and slimming the figure.
Diamond Tome microdermabrasion- epidermis exfoliation
Our device is a novelty on the Polish and world market. The treatment is carried out with the use of American produced Diamond Tome device. The device meets the required European (CE) and American (FDA) standards.
In comparison to other treatments such as chemical peels, dermabrasion or laser resurfacing, microdermabrasion does not carry the risk of discolouration and scars.
Microdermabrasion is a technique of removing the uppermost layers of the skin making it supple and radiant. Diamond microdermabrasion removes skin layers by gentle exfoliation using natural diamond fragments while at the same time dead skin cells are sucked out in a sterile and controlled manner. Removing the top layers of dead skin cells leaves a smoother surface and stimulates the growth of healthy new skin cells.
Unlike other exfoliation treatments, diamond microdermabrasion does not contain any unnecessary chemicals (such as aluminum oxide) that could harm you or pollute the environment. Diamond microdermabrasion has no side effects (unfavorable) skin irritations and reactions, making it suitable for people with sensitive skin. The use of corundum or other abrasive powders may cause the powder particles to remain in the skin, the long-term results of which are unknown.
TREATMENT OPTIONS
Sun-damaged skin.
Age spots (sun spots).
Reduction of shallow wrinkles.
A mixture of cosmetic surgery or laser treatments.
Reduction of acne scars.
Removal of blackheads, narrowing of pores.
Scar correction.
Reduction of hyperpigmentation (discoloration).
Stretch marks, cellulite.
Rejuvenation, nourishment, skin elasticity.
The treatment is an ideal preparation for photo-rejuvenation.
Dry skin.
Acne vulgaris (comedonal, nodular).
Seborrhea.
General regeneration of the skin, mainly at the loss of collagen fibers.
Stimulation of microcirculation which results in better nutrition of skin cells.
The treatment is an ideal preparation for photo-rejuvenation.
Microdermabrasion is a great alternative to laser peels as well as chemical peels because it is non-invasive, non-surgical and requires no "recovery." Your skin will be radiant, free of irritation and unwanted cells. It will be softer, smoother, and clearer after just the first treatment.
Frequency of treatments:
The series is 4 to 10 treatments, depending on the condition (state) of the treated skin and the skin type. Treatments are performed at intervals of 7-10 days. It depends on indications and patient's expectations. After each microdermabrasion treatment the improvement is more and more visible. In order to maintain and consolidate the results obtained it is recommended to repeat the series after a few months.
Diamond microdermabrasion is painless despite its effectiveness. The degree of effectiveness is controlled by a tightly regulated vacuum combined with the different roughness of the device's diamond tips.
Your skin experiences an effective treatment while being comfortable at the same time.
Plastic surgeons and dermatologists consider diamond microdermabrasion a more gentle treatment than other exfoliation systems despite its higher level of sophistication.
HOW DOES THE SKIN LOOK LIKE IMMEDIATELY AFTER THE TREATMENT?
Your skin may be slightly flushed, but should return to normal after 10 to 30 minutes. Your skin will be smoother after the first treatment and this will improve with subsequent microdermabrasion treatments.
TREATMENT FEATURES:
Painless - no need for anesthesia.
Does not cause allergies.
Does not hinder the performance of daily tasks.
Safe, controlled depth of abrasion.
Elimination of pathogenic microorganisms from the skin surface (e.g. Propionibacterium acnes)
No bleeding or skin trauma
An alternative for those intolerant to chemical peels.
Contraindications:
Inflammatory skin conditions.
Untreated diabetes.
Skin eczema
Herpes simplex.
Pregnancy.
Fungal infections.
Fever.
Warts.
If you are taking blood-thinning drugs, e.g. aspirin, polopyrin (discontinue 24 hours before the procedure).
Antibiotics.
Photosensitizing herbs such as St. John's wort.
Pimple acne, suppurative acne.
Anti-acne therapy with ROACCUTAN (a three-month break is advisable).
Rosacea.
Surgical procedures within the face (up to 2 months)
There are no contraindications in the case of:
Tanned skin
Shallow vascularised skin.
SIDE EFFECTS AFTER MICRODERMABRASION : :
Tingling, burning and itching sensations, which quickly disappear.
Persistent erythema (up to 24-48 hours). Every day the redness of the skin becomes less visible and does not interfere with putting on make-up or performing daily activities.
Skin hypersensitivity.
SKIN CARE AFTER THE TREATMENT:
avoiding sunbathing for the first 48 hours after the treatment.
Avoid swimming in chlorinated water (swimming pools) for up to 48 hours after the treatment.
patients with discolouration can use bleaching preparations 24 hours after the treatment
It is recommended to use sunscreen creams with the factor at least 25.
Cryolift FILLMED- skin firming, oval face modelling
The Cryolift treatment is based on the beneficial effects of cryotherapy, which uses a special device with a head releasing a stable cold at a temperature of -15 degrees directly onto the skin without causing any discomfort.
Cryolift works on tired and sagging skin which restores its smoothness and radiance.
It is an excellent method for:
firming of the inner parts of the arms and thighs,
flabby skin of the abdomen and breasts,
a painless method for skin modelling, oval face,
effectively reducing bags under the eyes, firming the eyelids,
oxygenation of the skin,
Excellent treatment before an "important exit" as a so-called banquet treatment,
Effective in the elimination of hyperpigmentation, because melanocytes are sensitive to low temperatures, and their disintegration occurs at a temperature of -7 degrees.
It is a method of firming tired, flabby skin, restoring its smoothness and natural radiance. This method can be called needleless mesotherapy because we administer the same substances in it but with the consistency of gel (more). The treatment does not cause discomfort, is painless and is an excellent alternative to mesotherapy for people who can not stand the sight of a needle. It can be used in any area including the skin of the breasts, which is not possible in needle mesotherapy.
Cryolift involves cooling a selected area of the skin using a special gun, equipped with a tip with a temperature from minus 15 to 0 ° C. Cooling of the selected area of the skin induces vascular game in the skin consisting of narrowing and widening of vessels. This improves microcirculation and oxygenation of the skin. Cells can better function and absorb active ingredients administered through the skin surface during the treatment. The preparations are injected deep into the skin thanks to the temperature difference and the vascular game. The treatment leads to complete absorption of the applied preparation. Raising the temperature to minus 6oC you can perform the treatment even on the upper eyelids.
This is an innovation of Filorga Laboratory in the field of skin regeneration.
NCTF gel used during treatments contains a vitamin complex (A, B, C, E, K) enriched with minerals and amino acids with the addition of coenzymes and nucleic acids. It is a preparation with exceptional skin regenerating properties. It works comprehensively thanks to the content of all substances necessary for regeneration. It is the result of years of experience of doctors and the latest technology in the field of medical cosmetics.
Additionally, the following ampoules are used in the treatment:
Biological complexes - salmon caviar extract
DNA - biological complex strongly regenerating the skin
Elastin - biological complex strongly tightening the skin on the basis of pure elastin
Collagen - a complex that strongly moisturises the skin
Embrobuste - biological complex, rich formula based on a complete blend of cellular components (caviar extract). Improves microcirculation (arnica extract). It nourishes, regenerates and ensures skin tone. Stimulates fibroblasts, increasing collagen synthesis. The product is designed for use on the chest.
Contraindications:
Pregnancy, herpes, severe migraines and sinus problems.
Mesotherapy needle-free TMT System - intensive firming and regenerating action without needles
Needleless Mesotherapy is a new, transdermal way of transporting active substances in the treatment of cellulite, wrinkles and stretch marks, as well as flabbiness and discoloration of the skin.
An alternative to painful injections!
Sensational device for subcutaneous injection of drugs or cosmetics, without a needle.
Electric impulses inject active substances in gel deep into tissues, where they effectively influence repair processes in the skin.
TMT system is the greatest technological achievement in the aesthetic medicine sector. It allows to achieve excellent results in improving the condition of the skin without the need of undergoing surgical procedures or injections, without undesirable side effects such as pain, redness, bruises or petechiae.
We can do 2 specially designed programs for different skin problems:
Program 1 - firming
Program 2 - skin regeneration after the sun
Treatment programs performed with TMT mesotherapy are based on active substances well known in aesthetic medicine.
ERGOLIFT - Endermologie® for face
The Endermologie® method is a 100% natural and effective treatment, thanks to which your complexion will remain fresh and radiant regardless of the weather and will look less tired. The treatment stimulates the skin without disturbing the epidermis, reactivating the mechanisms occurring in cells.
The patented LPG® treatment head gently stimulates the skin and oxygenates the tissues, while stimulating microcirculation and evening out the complexion. The result is a gently exfoliated outer layer of skin, oxygenated tissues, stimulation of microcirculation, as well as firmed, tightened, filled and hydrated skin. It is a guarantee of a radiant, healthy glow.
The only technique that naturally stimulates the production of collagen, elastin and hyaluronic acid in a completely painless way without side effects:
• One hundred percent natural: a technique that does not disturb the skin's ecosystem.
• A solution that is neither aggressive (aesthetic medicine, surgery) nor too gentle (cosmetics).
• Immediate results: a radiant complexion and even skin after the first session.
• Long-term results: restoration of skin density, cleansing of the complexion, shaping of the facial oval, smoothing of wrinkles.
• A true lifestyle: a habit that should be used every day of the year.
• Proven effectiveness: in new fibroblast research.
• Pleasurable experience: 30 minutes of pure relaxation.
Absolute contraindications to performing an Ergolift:
• cancer
• skin rash
• inflammatory phase
• taking blood-thinning drugs
• herpes
• inflammation and infection of the skin in the course of acne
• acquired vitiligo
Local contraindications to perform Ergolift:
• rosacea
• fillers
• ici
• fresh scars
• skin changes
• areas under anesthesia
• moles above the skin surface
• piercings
• botox
• lipomas
• angiomas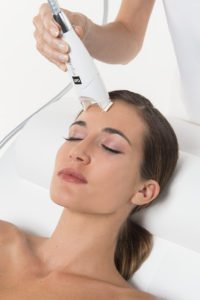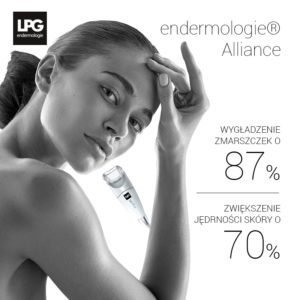 Lift Yoga
Lift Yoga massage is designed to fight signs of aging, activate collagen and elastin synthesis and promote elimination of toxins. Through deep, localized movements of smoothing, kneading and patting, skin becomes instantly and visibly firmer, fuller and more luminous. This 100% manual massage combines experience in muscle as well as wrinkle massage and the use of aromatic essential oil cocktails to work on the skin, body and mind.
Duration: 30 minutes
Age Element
Age Element - professional anti-aging solution!
Age Element Mesoestetic is an innovative, personalized and comprehensive anti-aging medical and cosmetic treatment. It combines personalized operation based on the latest technological achievements. Tailored to the individual needs of the patient. It has the effect of reducing the existing signs of skin aging and prevents the formation of further changes.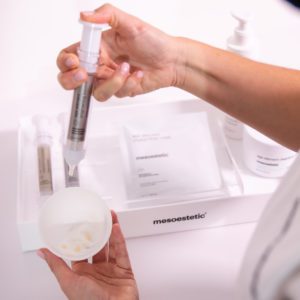 Global eyecon - aesthetic treatment around the eyes
A special, professional treatment that combats the signs of aging and fatigue around the eyes. The eye contour is a particularly delicate area that has different anatomical features, therefore its care requires the use of dedicated products and treatments.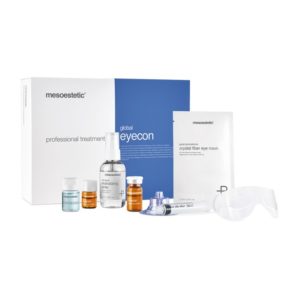 The delicate eye area is influenced by internal and external factors such as fluid retention, genetics, constant gesticulation and sagging skin, making this area characterized by numerous imperfections. Global Eyecon is a treatment that combines many therapeutic categories to correct wrinkles and mimic lines, bags, dark circles under the eyes and drooping eyelids.
Cavitation peeling in a treatment
Face massage with cream
Face massage with ampoule
Algae mask (face) in a treatment
Algae mask (neck + cleavage) in a treatment
Collagen patch in treatment
Collagen flap in the treatment
Henna eyebrows
Henna eyelashes
Eyebrow shaping
Eyebrows shaping with warm wax