Cellulite detector - professional method for the detection and classification of cellulite
Cellulite detector is an internationally patented thermographic contact system for detecting and classifying the thermal signs of cellulite.
With this device, it is possible to precisely locate areas that require diagnosis, therapy, and more intensive care. This device can diagnose the problem and indicate the need to undergo treatment. The device includes 1 cold plate for temperatures of 27.3° - 31.1° C, 1 hot plate for temperatures of 30.3° - 35.1° C, reusable plates, a built-in thermometer, user manual.

PRICE for a consultation with the Cellulite detector device PLN 200.
✔️ Price of consultation - free for in-office treatment
✔️ Price of consultation to purchase Arosha cosmetics - free of charge

Using Arosha's Cellulite detector is an investment in your own body. A correct diagnosis, i.e. determining the extent and location of the most difficult form of cellulite, gives a chance for effective therapy. The price of the diagnosis therefore minimises the cost of the therapy, which would certainly be higher in the case of action not supported by knowledge of the problem.
NANOPORE Microneedling - rejuvenation, wrinkle reduction, skin firming
Dr. Gabriel Serrano, the creator of Nanopore microinjection, calls the device a supertechnology. Why? Because it is a minimally invasive method, and works comparably to laser treatments. - It will be one of the most important treatments and can compete with lasers. - Dr. Serrano explains.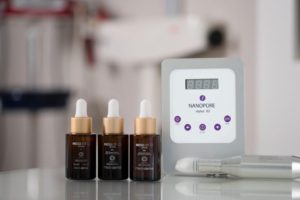 Nanopore is almost painless. This is due to the completely different design of the needles and the way they move, and the skin regenerates faster. The microneedles in Nanopore are straight, not rounded as in the so-called "pens". The needles in Nanopore make as many as 1,000 movements per second, so they induce electricity less than a millimeter deep in the skin. These stimulate growth factors for natural regeneration. So if you combine a peel with Nanopore (first the peel, then the needles), their effect doubles or triples. In contrast, there are no (or very rare) side effects, irritation and bleeding known from previous generation needles. As a result, you look good when you leave the office: no erythema or puncture marks. Thus, it can be a breakthrough treatment that will convince people who have been undecided about rejuvenating treatments so far.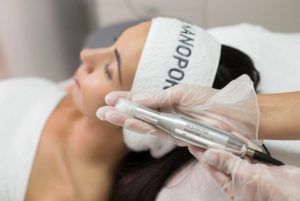 Treatments with the Nanopore device are selected individually to the needs of the client's skin, using an appropriate mixture of mesococktails. We use Mesocit preparations, which contain in their composition various mixtures such as: growth factors closed in liposomes, combined with active compounds intensively penetrating the deepest layers of the skin, hyaluronic acid, retinol, vitamin C, biomimetic peptides, nucleic acids, amino acids.
Treatments using Nanopore have:
rejuvenating
Eliminating wrinkles, discolourations.
nourishing
diminishing scars, stretch marks.
nourishing the skin.
firming.
eliminating cellulite.
to strengthen connective tissue
improving the oval of the face.
Contraindications to treatment:
inflammatory changes of the skin
acne vulgaris in active condition
acne rosacea in active state
autoimmune diseases.
cancerous diseases
Herpes
psoriasis
vitiligo
Photodynamic therapy PAN - Spectrum Mask
LED therapy
The use of LED light stimulates regeneration processes and improves blood supply to the skin. The treatment is completely safe and carries minimal risk of side effects. The appropriate wavelength penetrates into the skin without disturbing it. The depth of penetration depends on the color of light used.
What advantages does each color of light have?
Not every color of light has the same effect. Depending on your skin's needs, you should choose the right color.
• Blue light has a soothing effect on the skin. It mainly benefits people with acne and rosacea. The effect of the blue light wave damages the sebaceous gland and causes a decrease in sebum secretion, thus reducing the obstruction of hair follicles and improving skin texture.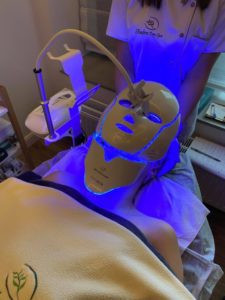 • Red light increases collagen production by controlling keratinization and improving circulation, which helps with skin affected by photoaging. This wavelength restores elasticity and remodels the top layer of the skin. It brings very good results in delaying the aging process, reducing wrinkles and discoloration.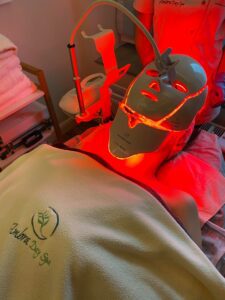 Spectrum Mask phototherapy device
Mediderma brand has launched a phototherapy device - Spectrum Mask. The mask provides a spectacular and long-lasting effect without invasive procedures and without pain. The light beam penetrates the skin and reaches the interior of the cells, stimulating the processes occurring in them. It does not affect the cell structure, but only stimulates and naturally intensifies the regeneration mechanisms. Spectrum Mask has been recognized by the most renowned beauty magazine - LNE - with the "LNE Innovations" award.
In addition to the phototherapy device, the key to successful treatments is the skillful combination of light with photosensitizers, which are selected by a specialist and activate after contact with light. Photosensitizers include substances such as curcumin or chlorophyllin.
Application of Spectrum Mask
- acne
- rosacea
- aging
- atopy
- psoriasis
- alopecia
Contraindications
- pregnancy
- breastfeeding
- tumors
Therapies using Spectrum Mask in combination with photosensitive substances
Main photosensitive substance: aminolevulinic acid hydrochloride.
Indications for treatment: skin with signs of aging, sun damage, acne tendency, dehydrated skin.
Action:
- regenerative: increases collagen synthesis, improves skin texture
- antibacterial
- anti-inflammatory
- brightening of discoloration
LED light: alternating red and blue.
Frequency of treatments: every 2-3 weeks.
Anti-inflammatory, soothing treatment.
Indications for treatment: skin with a tendency to acne, psoriasis, atopic dermatitis.
Treatment benefits:
- improvement of moderate and severe acne lesions
- reducing the formation of acne scars
- improvement of skin elasticity
- unification of skin tone
- reduction of hyperkeratosis
LED light: blue.
Frequency of treatments: every 2 weeks
Main photosensitive substance: chlorophyllin.
Indications for treatment: skin with a tendency to acne, with redness and signs of photoaging.
Action:
- anti-acne,
- anti-bacterial,
- antioxidant,
- oxygenating the skin,
- brightening of acne discoloration,
- reducing sebum production,
- closing of dilated pores.
LED light: alternating red and blue.
Frequency of treatments: every 2 weeks.
Hydrogen cleansing AQUASURE H2 - cleansing of the skin with active hydrogen
Hydrogen cleansing involves delivering hydrogen molecules to the skin to cleanse the skin at the cellular level. Because hydrogen is the smallest and lightest element, it has the ability to penetrate deep into the skin. Active Hydrogen is delivered to the skin through a stream of water saturated with it, which additionally exfoliates dead skin cells, leaving the skin deeply cleansed. In addition, active hydrogen shows anti-aging properties by eliminating free oxygen radicals. Thanks to its small mass, it penetrates deep into the skin, where it combines with reactive and most harmful free oxygen radicals, and then in the form of water is removed from the body, thus stopping the skin aging process. It turns out that hydrogen is the strongest antioxidant, it is much more effective than vitamin c or even coenzyme Q10. Hydrogen cleansing is therefore a method of skin cleansing that works not only in multiple stages as well as comprehensively.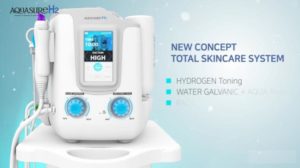 AQUASURE H2 multistep skin cleansing involves deep cleansing of the skin so that it looks healthy and radiant. Multistep indicates not only that the cleansing consists of several steps, but also that it works multitaskingly. It is based on thorough cleansing, exfoliation, moisturizing and anti-aging.
STEP 1: HYDROGEN CLEANSING
Active hydrogen effectively cleanses the skin at the cellular level. At the same time it neutralizes and reduces free oxygen radicals, which are responsible for skin aging, thus stopping the aging process.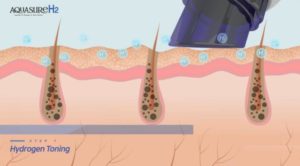 2 STAGE: HYDROPEELING
Hydropeeling or water microdermabrasion treatment is performed under high water pressure, which allows to achieve a smooth, uniform and fresh skin. This stage of treatment removes dead cells and impurities from the skin surface.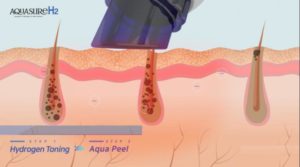 STAGE 3: ION INFUSION
During the treatment, in the form of a premium serum, exfoliating and nourishing substances are introduced into the skin cells. The effect of exfoliation is intensified thanks to lactic acid, while the nourishing and regenerating effect is due to active vitamin C.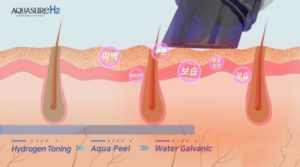 STAGE 4: MCS LIFTING
The end of the treatment is a stage of massage with the use of MCS head using microcurrent stimulation. It allows to increase the elasticity and tightness of the skin, as well as to activate the process of blood flow, starting the remodeling of collagen and elastin fibers.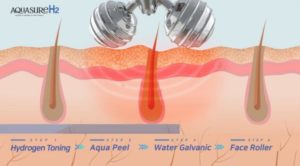 EFFECTS
Thanks to the multi-stage hydro-cleansing during one treatment, we get an immediate effect of cleansing, smoothing, deep hydration and lifting. Aquasure H2 system allows you to work on many skin problems. After the treatment, the skin regains its lost radiance, is deeply cleansed and moisturized. By reducing the amount of harmful free radicals, the skin aging process is significantly delayed.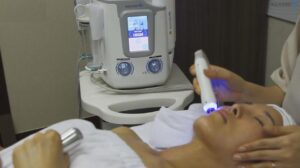 CONTRAINDICATIONS
- Violation of the continuity of the skin,
- sunburn,
- herpes in the acute stage,
- acute inflammatory processes,
- use of anticoagulants,
- severe somatic illness,
- pregnancy,
- hypersensitivity to currents.
FREQUENCY
A series of 4-6 treatments performed every 10-14 days.
The treatment can also be performed once.
Storz D-Actor shock wave - cellulite reduction, body shaping, skin firming, wrinkle reduction
WHAT IS STORZ SHOCKWAVE?
Storz is a treatment based on shock wave technology. The head of the device generates an acoustic wave characterized by a high dose of pressure, which increases very quickly in relation to the pressure outside. Shock wave properties are used in aesthetic medicine and physiotherapy treatments. Acoustic wave mechanically stimulates tissues, improves cell metabolism and stimulates the formation of new blood vessels in effect reducing localized fatty tissue or cellulite.
WHAT IS THE STORZ TREATMENT?
STORZ head in contact with the skin generates a sound wave, which produces energy in the form of pressure. The energy transferred into the tissues causes tearing of the fibers surrounding fat cells. The body then removes the broken down fat cells during the natural metabolic process.
WSKAZANIA DO ZABIEGU
Aesthetic effects
- Fighting cellulite
- Body shaping
- Improving skin elasticity
- Wrinkle reduction (reduces the size of pores, reduces the depth and width of wrinkles, improves skin texture)
Physiotherapeutic effects
- Drainage
- Scar and stretch mark therapy
- Muscle and connective tissue relaxation
- Pain relief
CONTRAINDICATIONS
Lack of completed bone growth.
Tumours up to 5 years after cure.
Osteoporosis.
Pregnancy.
Thrombosis, varicose veins in the surgical site.
 Umbilical hernia at the surgical site.
Anticoagulants, steroids, anti-inflammatory drugs.
Pacemaker at the surgical site.
Endometriosis - in case of abdominal procedures.
Blood diseases, haemophilia
Epilepsy.
Direct lung, chest area
TREATMENT AREAS
abdomen, thighs, buttocks, arms, face
BENEFITS
Non-invasive treatment (does not damage the skin), does not require rest and is suitable for all skin types.
FREQUENCY OF TREATMENTS
A series of 8 - 12 treatments (optimally 10 treatments)
1 - 2 treatments per week every 3 - 7 days
Best results are visible even 2 - 3 months after the last treatment.
COMBINED PROCEDURES
LPG Endermologie + STORZ
DURATION OF TREATMENT
40 minutes
Drainage with the V-Actor vibrating head
We use the V-Actor vibrating head in order to unblock lymph flow reducing swelling and pain in the tissue. We move the head throughout the treated area with a slight hold on the head and pressure on the areas major lymph nodes in a cardiac direction.
Benefits of drainage:
relaxation of muscle and connective tissue.
* Improved microcirculation.
* increased lymphatic activity
* reduction of stress through decrease in cortisol
* Anti-oedema effect.
LPG Endermologie ALLIANCE
Endermologie®
The only 100% natural, non-invasive and effective method of mechanical skin stimulation that naturally reactivates cell metabolism. It works on fat release and skin laxity, while fully respecting the biological balance of the body and skin.
ALLIANCE, THE NEW LPG® TECHNOLOGY PATENT.
LPG® has developed a rejuvenating and slimming treatment for the 21st century. Once again, LPG® is breaking the rules and challenging conventional approaches to beauty. For the first time in its history, a treatment head equipped with two rollers has undergone a spectacular evolution.
For the first time, two technologies have been combined to produce spectacular treatment results and improve the functioning of the whole body with slimming and rejuvenating effects.
A synergy of patented technologies - motorized roller, motorized flap and synchronized sequential suction - for a new way to mobilize tissue, on all its dimensions, providing an even more pleasant and effective treatment.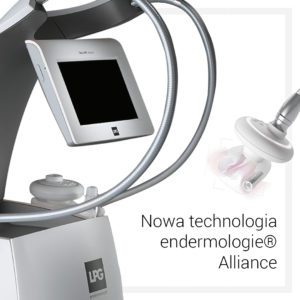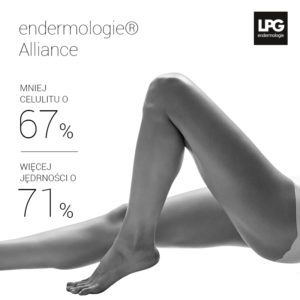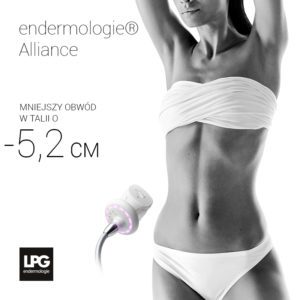 Results:
Elimination of localized fatty tissue.
Increased production of natural collagen, elastin and hyaluronic acid
The skin becomes firmer and cellulite is smoothed out.
Belly or "sides", cellulite or improving skin firmness... the age-old dilemma no longer exists. Endermologie® treatments are versatile, enjoyable, customized and adapted to:
SKIN TYPE
KEY AREAS
DESIRED TREATMENT DURATION.
CELLU M6® ALLIANCE: FULL EFFECTIVENESS AND FAST RESULTS AFTER ONLY THE 3RD TREATMENT SESSION:
orange peel smoothing by 67%*.
71%* skin firming
3.4 cm waist circumference reduction*.
* For some people, results are noticeable after a longer period of time, such as long-term corticosteroid treatment, diabetes, hypothyroidism.
NEW LPG® PATENT: ALLIANCE WITH INNOVATIVE SKIN IDENTIFICATION SENSOR
Thanks to the skin identification sensor, we easily match the power of the treatment to the quality of the tissue! The stimulation adapts precisely to the individual characteristics of the skin. The intensity of the treatment is optimized while fully adapting to each skin type.
Benefits of CELLU M6® ALLIANCE:
Endermologie® combines applications in medicine and cosmetology (face and body).
LPG® techniques are 100% natural, non-aggressive, non-invasive and have no side effects.
Ideal combination with other body treatments.
It has an innovative skin identification sensor that allows us to match the power of the treatment to the quality of the tissue.
Tissue stimulation increased by 25%!
Indications for body treatment:
problematic cellulite.
skin lacking elasticity and density
resistant fatty tissue
lymphatic stasis
Absolute contraindications to body treatment:
cancer - excluding medical indications
inflammation
infections.
anticoagulants.
blood disorder.
pregnancy (except legs)
thrombi
Local contraindications:
rosacea
varicose veins and vascular spider veins
skin lesions, bedsores, ulcers
recently formed scars, scar hypertrophy, scarring.
abdominal and inguinal hernia
acute changes in bones, joints and muscles
hormonal implants
vein surgery (for the first two months)
areas undergoing surgery under anesthesia
moles raised above the surface
skin
piercings
botox
injectable fillers
lipomas
hemangiomas
Results after 10 treatments: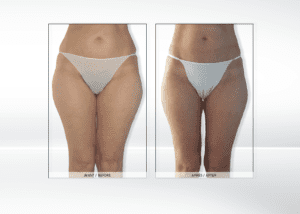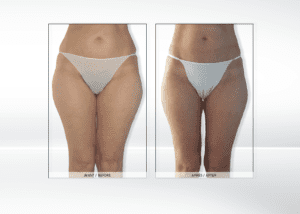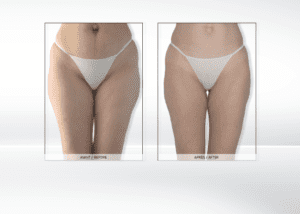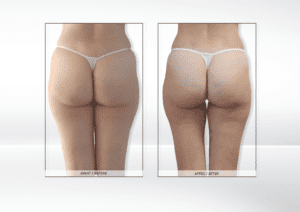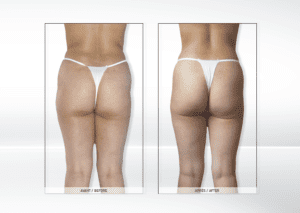 LPG Lipo M6 Endermologie
Endermologie ® - reduces cellulite, firms, removes toxins
Lipomassage ® - reduces deep layers of fat tissue resistant to diet and exercise.
Lipo M6R offers aesthetic treatments for the body. It is designed for body slimming and body contouring.
It uses a patented LPG® technique.
The modules are equipped with two rollers, which use microelectronics allowing for independent control of the direction and speed of their rotation.
Thanks to its ergonomic shape, the head provides comfort and allows to control basic treatment parameters. This is the highest quality and precision in the smallest details, protected by patents. Flexible and versatile modules and heads provide access to all areas of the body.
Lipomassage® technique allows you to carry out treatments on selected parts of the body. Three LPG® Endermologie® techniques: Roll'in, Roll'up and Roll'out, and 4 programs guarantee a precise effect on tissue and long-lasting results.
Lipomassage® reduces deep layers of fat tissue resistant to diet and exercise.
Endermologie is a highly effective method for treating cellulite, reducing local fat and significantly improving the skin. Endermologie massage is performed using heads with interchangeable tips. The head consists of two rolls with a vacuum chamber. The work of the rollers is based on their rotation in different directions and at different speeds, which causes the retraction and expansion of the skin fold.
The effects are:
improved circulation
cleansing from toxins
faster fat burning
skin firming
exfoliation of the epidermis
Absolute contraindications:
cancer, acute medical condition
* Pregnancy (allowed protocol for tired legs syndrome, edema, except for phlebitis suffered in the last 2 years.
Skin infections and all kinds of rashes, erythema (acne, psoriasis, hemiplegia, eczema, urticaria, herpes).
Phlebitis (hardening of the calves, redness, hot sensation, pain)
anticoagulants
vitiligo.
Local contraindications:
eversion, abdominal hernia, pierçing
hemangioma
Painful varicose veins
lipoma
implants (subcutaneous contraceptives, pacemaker,.)
Vascular fragility
injections, implants, peelings, laser treatments,. (depending on skin condition)
Plastic surgery (liposuccion, lifting,.) in the last 6 months.
GeneO+ - exfoliation, absorption and oxygenation
Geneo is a unique platform by Pollogen that allows you to achieve rejuvenated, firmed and natural looking skin. Geneo treatments provide immediate and long-lasting results. Geneo gives you the opportunity to use two technologies: Oxygeneo®, Tripollar® RF.
OXYGENEO®
It is a comprehensive care, revitalization and natural oxygenation of the skin from the inside - 3 in 1. During the treatment we use capsules enriched with nutrients and base gels, allowing you to match the treatment to the specific type of skin and its needs.
During the first phase of the treatment, the outer layer of the skin is exfoliated, creating an ideal environment for the absorption of essential nutrients. At the same time, a combination of capsule and gel occurs on the surface of the skin, resulting in the production of countless CO2-rich microbubbles. The microbubbles burst gently on the surface of the skin and cause a physiological reaction of the body, called the "Bohr effect", which consists of:
- sending O2-rich blood to the treatment area of the skin,
- increasing blood flow in the capillaries,
- Increase skin cell metabolism.
Oxygeneo provides 3 simultaneous effects:
DRYING
The microbeads released from the capsule exfoliate the stratum corneum and remove all impurities. The skin is smoothed and prepared for further care.
ABSORPTION
Properly oxygenated and exfoliated skin is ready to absorb active substances contained in the applied preparation, such as hyaluronic acid, azelaic and kojic acids and retinol.
OXYGENATION
As a result of the reaction, micro-bubbles containing carbon dioxide are formed on the skin surface. The affinity of hemoglobin for oxygen is reduced, which is released into the tissues and immediate oxygenation of the skin occurs.
Depending on the desired results and skin needs, Geneo offers:
NEO BRIGHT ECO
BRIGHTENING
A tropical papaya-scented treatment that nourishes and illuminates the skin, instantly giving it a radiant appearance.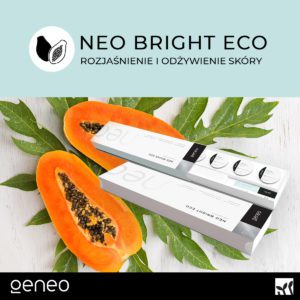 NEO REVIVE ECO
REJUVENATION
A treatment with a soothing fragrance of green tea, which prevents skin aging, moisturizes and nourishes.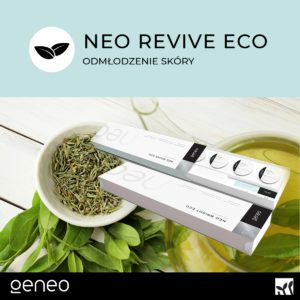 BALANCE
CLEANSING AND BALANCING OILY SKIN
Aims to cleanse and balance oily skin and improve its texture and appearance.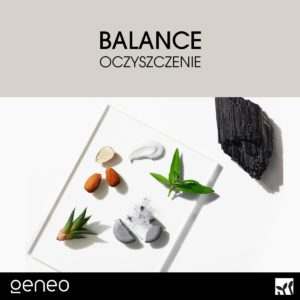 ILLUMINATE
TO IMPROVE SKIN TONE AND LUMINOSITY
A unique combination of active ingredients to improve skin tone and exceptional luminosity.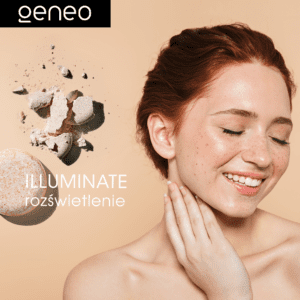 REVIVE
REVITALIZATION OF DULL SKIN AND REJUVENATION
Ideal for revitalizing dull skin and reducing fine lines and wrinkles.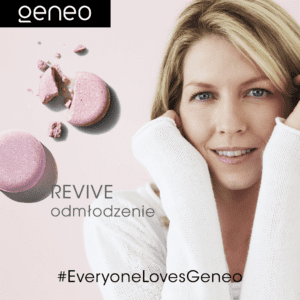 HYDRATE
HYDRATION
A unique combination of active ingredients to increase hydration and add radiance to dry and dull skin.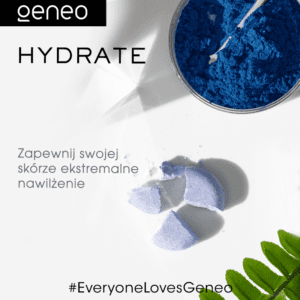 DETOX
STRENGTHENING THE SKIN'S PROTECTIVE BARRIER
It protects the skin against the harmful effects of the environment and toxins. It tightens and brightens, ensuring the effect of balance, rejuvenation and refreshment.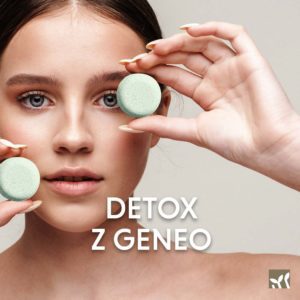 GLAM
RESTORATION OF HARMONY AND YOUTHFUL VITALITY OF THE SKIN
Geneo Glam takes the skin to a higher level of care. Pure gold encapsulated in Geneo Glam capsules together with a complex of peptides and silk amino acids, give cells energy, prevent collagen loss and restore elasticity. The result is smooth, nurtured and youthful skin.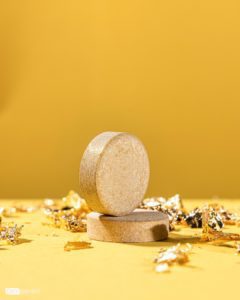 Geneo also allows you to propose firming and lifting treatments. For this purpose, an additional head with radio wave technology is used.
TRIPOLLAR® RF
Using the RF head during the treatment allows to stimulate skin renewal by stimulating production of its collagen and elastin fibres. Concentrated RF energy in a safe and effective way causes controlled heating of the dermis, leading to its shrinking and firming.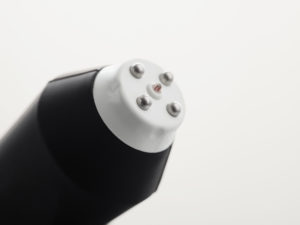 GENEO BODY - beautiful body and healthy skin!
Specially designed for every skin type by the company Pollogen, an innvoation expert in aestetics and cosmetology, who has prepared special body treatment protocols using OxyGeneo technology and OxyPods capsules:
CLARITY
Restores balance and purifies the skin
An extremely effective combination of toxin-removing, anti-inflammatory, soothing and sebum-absorbing ingredients to cleanse oily skin prone to acne and improve the condition of skin in areas such as the shoulders, buttocks, arms and back. The treatment is performed on a selected part of the body or on all the above-mentioned parts.
ELEGANCE
Smoothes the skin and restores its radiance
This unique treatment contains a powerful set of antioxidants and moisturizing and rejuvenating ingredients. This unique blend promotes lymphatic drainage, increases blood flow to the skin's surface by stimulating microcirculation, and improves the appearance of the legs.
Treatment area: the whole legs.
TOUCH UP
Skin brightening and rejuvenation
The treatment contains ingredients that both protect and soothe delicate skin, as well as work together to unify skin tone, improve pigmentation and rejuvenate delicate skin and areas such as the hands or bikini line.
The treatment is performed on a selected part of the body or on all above mentioned parts.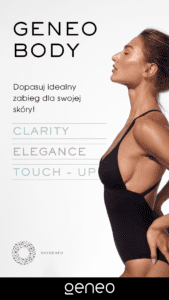 Tripollar (RF) - lifting, skin thickening
RADIO WAVE IN AESTHETIC MEDICINE
Radio wave has been used in aesthetic medicine for over 75 years as a safe and effective technology. In the last decade, radio wave has been recognized as the gold standard technology used in the aesthetic medicine market.
RF heats deep tissues while safely working on the epidermis. The degree of clinical effect, depends on the relative electrical resistance of the target tissue.
In aesthetic medicine, RF technology is used to:
skin tightening,
reduce wrinkles,
reduction of local obesity
reduction of cellulite.
GENEO / oxygenation, exfoliation, absorption: choice of capsule: NeoRevive or NeoBright with rejuvenating or brightening effect)
TRIPOLLAR (RF) / firming, thickening, lifting effect, wrinkle reduction)
TREATMENTS BASED ON SKIN TIGHTENING
GENEO + TriPollar + NeoMassage
6 treatments
First OxyGeneo, then Tripollar.
OxyGeneo causes exfoliation of the horny layer, which is associated with better penetration of RF
TREATMENTS BASED ON IMPROVING SKIN TEXTURE AND NUTRITION
TriPollar + GENEO+ + NeoMassage
6 treatments
FirstTripollar, then OxyGeneo.
The RF treatment causes an increase in blood flow and better penetration of active gel ingredients.
Cavitation peeling - skin cleansing
odern cosmetology offers more and more comfortable and spectacular treatments. The use of modern digital equipment is a painless alternative to traditional methods such as manual skin cleansing. It also increases the possibility of transporting active ingredients deep into the skin. Super Sonic Skin Scrubber by Rubica uses multidirectional action of ultrasound technology. This non-surgical system of intensive skin regeneration gives the possibility to carry out anti-wrinkle, anti-cellulite treatments as well as support the treatment of serious skin problems.
How does the cavitation peeling work?
The ultrasound wave in the presence of fluid creates bubbles filled with diluted gas, which enlarge and burst violently. Under the influence of heat and increased pressure a very thorough and completely painless cleansing of the skin from the accumulated layer of keratinized epidermis, toxins and secretions of sebaceous glands takes place.
Advantages of using cavitation peeling:
ainlessly, quickly and thoroughly cleanses the skin of the face, neck and cleavage.
Disinfects the treated area, preventing the appearance of inflammation.
Does not require heating, so it can be safely performed on vascular and sensitive skin
Supports acne treatment.
Lightens discolouration and pigmentation spots
Prepares the skin for further cosmetic procedures, increasing its absorption capabilities.
Indications and contraindications for ultrasound treatments
Indications:
Discoloration.
Wrinkles
Acne.
Cellulite.
Grey skin tone (skin poisoned by nicotine).
bruising and puffiness around the eyes.
Poor skin nourishment and regeneration.
Contraindications:
Tumors and conditions after their surgical removal.
Pregnancy.
Circulatory insufficiency.
Feverish states.
Severe general condition.
Presence of metallic foreign bodies in tissues (pacemakers, braces, etc.).
Vegetative neurosis of a significant degree.
Osteoporosis.
Cosmetic functions of ultrasound:
Removal of subcutaneous pigmentation spots.
Elimination of blood clots and "red nose" erythema.
Eliminating wrinkles.
Eliminating bags under the eyes.
Acne treatment.
Eliminating horny layer and "fish scale".
Removing fatty tissue and slimming the silhouette.
Diamond microdermabrasion Diamond Tome - epidermis exfoliation
ur device is a novelty on the Polish and world market. The treatment is carried out with the use of American produced Diamond Tome device. The apparatus meets the required European (CE) and American (FDA) standards.
In comparison to other treatments such as chemical peels, dermabrasion or laser resurfacing, microdermabrasion does not carry the risk of discolouration and scars.
Microdermabrasion is a technique of removing the uppermost layers of the skin making it supple and radiant. Diamond microdermabrasion removes skin layers by gentle exfoliation using natural diamond fragments while at the same time dead skin cells are sucked out in a sterile and controlled manner. Removing the top layers of dead skin cells leaves a smoother surface and stimulates the growth of healthy new skin cells.
Unlike other exfoliation treatments, diamond microdermabrasion does not contain any unnecessary chemicals (such as aluminum oxide) that could harm you or pollute the environment. Diamond microdermabrasion has no side effects (unfavorable) skin irritations and reactions, making it suitable for people with sensitive skin. The use of corundum or other abrasive powders may cause the powder particles to remain in the skin, the long-term results of which are unknown.
TREATMENT OPTIONS
Sun-damaged skin.
Age spots (sun spots).
Reduction of shallow wrinkles.
A mixture of cosmetic surgery or laser treatments.
Reduction of acne scars.
Removal of blackheads, narrowing of pores.
Scar correction.
Reduction of hyperpigmentation (discoloration).
Stretch marks, cellulite.
Rejuvenation, nourishment, skin elasticity.
The treatment is an ideal preparation for photo-rejuvenation.
Dry skin.
Acne vulgaris (comedonal, nodular).
Seborrhea.
General regeneration of the skin, mainly at the loss of collagen fibers.
Stimulation of microcirculation which results in better nutrition of skin cells.
The treatment is an ideal preparation for photo-rejuvenation.
Microdermabrasion is a great alternative to laser peels as well as chemical peels because it is non-invasive, non-surgical and requires no "recovery." Your skin will be radiant, free of irritation and unwanted cells. It will be softer, smoother, and clearer after just the first treatment.
 
Frequency of treatments:
The series is 4 to 10 treatments, depending on the condition (state) of the treated skin and the skin type. Treatments are performed at intervals of 7-10 days. It depends on indications and patient's expectations. After each microdermabrasion treatment the improvement is more and more visible. In order to maintain and consolidate the results obtained it is recommended to repeat the series after a few months.
Diamond microdermabrasion is painless despite its effectiveness. The degree of effectiveness is controlled by a tightly regulated vacuum combined with the different roughness of the device's diamond tips.
Your skin experiences an effective treatment while being comfortable at the same time.
Plastic surgeons and dermatologists consider diamond microdermabrasion a more gentle treatment than other exfoliation systems despite its higher level of sophistication.
HOW DOES THE SKIN LOOK LIKE IMMEDIATELY AFTER THE TREATMENT?
Your skin may be slightly flushed, but should return to normal after 10 to 30 minutes. Your skin will be smoother after the first treatment and this will improve with subsequent microdermabrasion treatments.
TREATMENT FEATURES:
Painless - no need for anesthesia.
Does not cause allergies.
Does not hinder the performance of daily tasks.
Safe, controlled depth of abrasion.
Elimination of pathogenic microorganisms from the skin surface (e.g. Propionibacterium acnes)
No bleeding or skin trauma
An alternative for those intolerant to chemical peels.
Contraindications:
Inflammatory conditions of the skin.
Untreated diabetes mellitus.
Skin eczema.
Herpes simplex.
Pregnancy.
Fungal infections.
Fever.
Warts.
Taking blood-thinning drugs, e.g. aspirin, polopyrine (discontinue 24 hours before the procedure).
Antibiotics.
Photosensitizing herbs such as St. John's wort.
Pimple acne, suppurative acne.
Anti-acne therapy with ROACCUTAN (a three-month break is advisable).
Rosacea.
Surgical procedures within the face (up to 2 months)
There are no contraindications in the case of:
Tanned skin
Shallow vascularised skin.
SIDE EFFECTS AFTER MICRODERMABRASION :
Tingling, burning and itching sensations, which quickly disappear.
Persistent erythema (up to 24-48 hours). Every day the redness of the skin becomes less visible and does not interfere with putting on make-up or performing daily activities.
Skin hypersensitivity.
SKIN CARE AFTER THE TREATMENT:
avoiding sunbathing for the first 48 hours after the treatment.
Avoid swimming in chlorinated water (swimming pools) for up to 48 hours after the treatment.
patients with discolouration can use bleaching preparations 24 hours after the treatment
It is recommended to use sunscreen creams with the factor at least 25.
Cryolift Fillmed- skin firming, oval face modeling
The Cryolift treatment is based on the beneficial effects of cryotherapy, which uses a special device with a head releasing a stable cold at a temperature of -15 degrees directly onto the skin without causing any discomfort.
Cryolift works on tired and sagging skin which restores smoothness and radiance.
It is an excellent method for:
firming of the inner parts of the arms and thighs,
flabby skin of the abdomen and breasts,
a painless method for skin modelling, oval face,
effectively reducing bags under the eyes, firming the eyelids,
oxygenation of the skin,
Excellent treatment before an "important exit" as a so-called banquet treatment,
Effective in the elimination of hyperpigmentation, because melanocytes are sensitive to low temperatures, and their disintegration occurs at a temperature of -7 degrees.
It is a method of firming tired, flabby skin, restoring its smoothness and natural radiance. This method can be called needleless mesotherapy because we administer the same substances in it but with the consistency of gel (more). The treatment does not cause discomfort, is painless and is an excellent alternative to mesotherapy for people who can not stand the sight of a needle. It can be used in any area including the skin of the breasts, which is not possible in needle mesotherapy.
Cryolift involves cooling a selected area of the skin using a special gun, equipped with a tip with a temperature from minus 15 to 0 ° C. Cooling of the selected area of the skin induces vascular game in the skin consisting of narrowing and widening of vessels. This improves microcirculation and oxygenation of the skin. Cells can better function and absorb active ingredients administered through the skin surface during the treatment. The preparations are injected deep into the skin thanks to the temperature difference and the vascular game. The treatment leads to complete absorption of the applied preparation. Raising the temperature to minus 6oC you can perform the treatment even on the upper eyelids.
This is an innovation of Filorga Laboratory in the field of skin regeneration.
NCTF gel used during treatments contains a vitamin complex (A, B, C, E, K) enriched with minerals and amino acids with the addition of coenzymes and nucleic acids. It is a preparation with exceptional skin regenerating properties. It works comprehensively thanks to the content of all substances necessary for regeneration. It is the result of years of experience of doctors and the latest technology in the field of medical cosmetics.
Additionally, the following ampoules are used in the treatment:
Biological complexes - salmon caviar extract
DNA - biological complex strongly regenerating the skin
Elastin - biological complex strongly tightening the skin on the basis of pure elastin
Collagen - a complex that strongly moisturises the skin
Embrobuste - biological complex, rich formula based on a complete blend of cellular components (caviar extract). Improves microcirculation (arnica extract). It nourishes, regenerates and ensures skin tone. Stimulates fibroblasts, increasing collagen synthesis. The product is intended for use on the chest.
Contraindications:
Pregnancy, herpes, severe migraines and sinus problems.
Mesotherapy without needles TMT System - intensive firming and regenerating effect without needles
Needleless mesotherapy is a new, transdermal way to transport active substances in the treatment of cellulite, wrinkles and stretch marks, as well as flabbiness and discoloration of the skin.
An alternative to painful injections!
Sensational device for subcutaneous injection of drugs or cosmetics, without a needle.
Electric impulses inject active substances in gel deep into tissues, where they effectively influence repair processes in the skin.
TMT system is the greatest technological achievement in the aesthetic medicine sector. It allows to achieve excellent results in improving the condition of the skin without the need of undergoing surgical procedures or injections, without undesirable side effects such as pain, redness, bruises or petechiae.
We can perform 2 specially designed programs for different skin problems:
Program 1 - firming
Program 2 - skin regeneration after the sun
Treatment programs performed with TMT mesotherapy are based on active substances well known in aesthetic medicine.